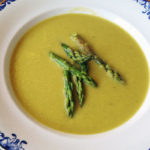 Cream of Asparagus Soup (cold or warm)
This is an old classic that I haven't found much improved on during my travels. You can use the stalks of the asparagus and save the lovely green tips to decorate the soup.
If you would like, this recipe can be made using white asparagus.
…