Once you have made your pie dough be sure to allow it to rest for an hour before rolling it out.
Be sure to remember to rest your dough for at least an hour after rolling it out.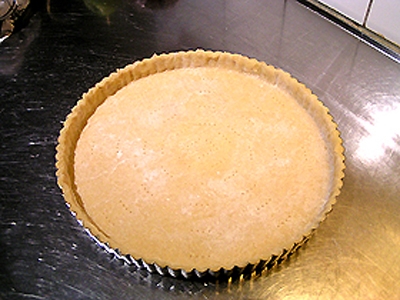 Baking the tart case blind (empty) Many recipes call for a fully or partially or fully baked tart shell. After the dough has been rolled out and allowed to rest for an hour in the fridge, prick the bottom of the tart with a fork all over, (this is called docking).  This allows steam to escape during baking which stops the center of the pie shell from rising up like a dome during the baking,. Place a piece of baking parchment or aluminum foil (slightly larger than the tart pan) in the bottom of the uncooked tart shell.
Pour in a couple of cups of dried uncooked white beans (kidney or navy will do, rice also works). Distribute them evenly over the bottom and into the corners of the unbaked pie shell. These will stop the pie crust from shrinking and will also stop air from lifting up the bottom of the shell during the baking process. We want a thin and completely flat crust when we are done. I have been using the same old bag of beans for the past 10 years.
For a partially cooked shell which you usually need for quiches, custards and some savory pies, bake at 200 degrees for 15-20 minutes minutes.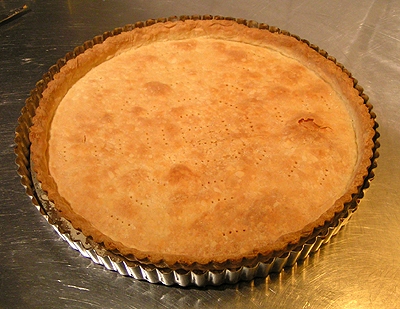 For a fully cooked shell  Like the one above which you would make for a classic strawberry or banana tart, bake for 20 to 25 minutes, at 200 degrees, remove from the oven and take away the parchment and the beans. Return to the oven and bake for a further 8-10 minutes or until the pie shell gets a lovely even light golden color and is cooked trough.
Remove from the oven and leave to cool on a cooling rack.
Note: Baking times vary from oven to oven especially if you have a convection oven, begin checking from the earliest times given here.