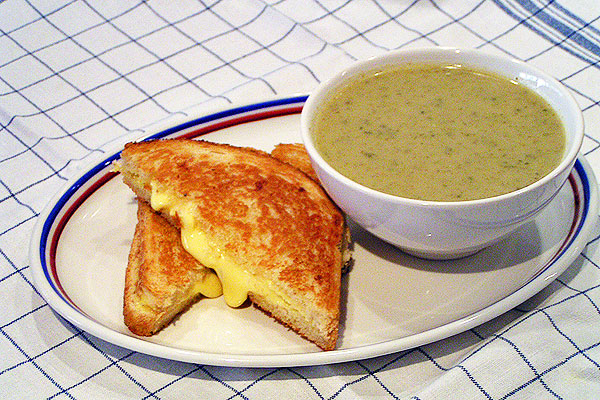 Broccoli Soup
Broccoli Soup
This is a take-off on a classic French cream soup. Cream of Broccoli Soup is easy and broccoli is available almost year round and rather inexpensive. No need to sieve this before serving as they might do in a fancy restaurant, it's good straight from the pot. Serve this with a nice crusty bread and bit of cheese.
There are many embellishments for cream soups. You can make your own croutons, grate a little Gruyere cheese over the soup. Tiny little veal meatballs are a great addition if you have the time.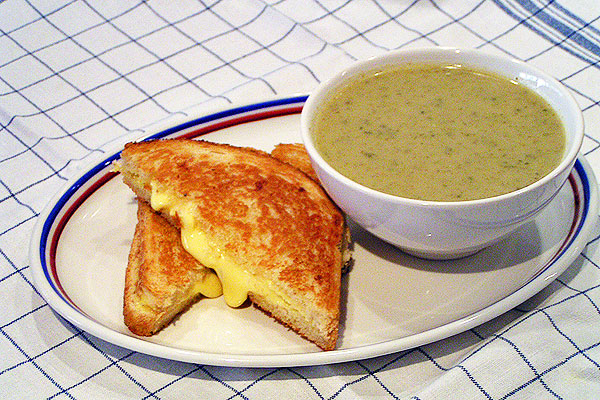 Broccoli Soup
An inexpensive and delicious soup that is quick to make thanks to the invention of the immersion blender.
Ingredients
2

tbsp

olive oil

700

gr

broccoli

250

gr

onion

thinly sliced

½

tsp

ground nutmeg

2

25g

vegetable stock plastic capsules

In Europe it's called Knorr Fond du Chef. Elsewhere it's call Knorr Home Style Stock

1½-2

liters

water

1

dl

hearvy cream

salt to taste

white pepper to taste
Instructions
Cut up the broccoli into fleurettes, and trim off the outer layer of skin on the thick part of the stem with a vegetable peeler. Peel and thinly slice the onion.

In a pot large enough to hold everything, melt the butter, then add the cut up broccoli and onions and sweat the vegetables with the cover on it over a low heat for about 15 minutes or until the onions become soft and the broccoli becomes a bright green.

Add the chicken stock or bullion and let simmer gently for another 15 to 20 minutes. You only want the broccoli just cooked. You can test it by poking it with the tip of a sharp knife for doneness. If you cook it too long the broccoli will turn grey and your soup will look dull an unappetizing!

Using an immersible blender (mix stavel) directly in the pot or transfer it to the bowl of a food processor, process the contents of the pot until everything has been liquidized and is smooth.

Remember if you are using bullion cubes that they are salty and you will not really need to add salt at the end of the cooking. Always taste things first before adding salt!

Add the cream then add the nutmeg, salt and white pepper to taste. You might find that the soup is too thick at this point you can add a bit of water or a little more stock to thin it out. Simmer for 5 minutes and serve or put aside to cool and serve chilled (not cold).
Notes
If you want to get a lower cholesterol recipe simply replace the cream with greek yogurt.
I almost never use things like flour, cornstarch, rice or potatoes to thicken these kinds of soups. Since this is not a restaurant and I don't have any need to stretch the vegetables that I am cooking, I try and get every last drop of goodness from them. The real trick to cream soups is to use vegetables that have enough body when put into a blender to hold up on their own. Carrots, asparagus, cauliflower, even watercress can do it if you use the right amount of liquid.
This recipe can of course be done using a food processor or blender as well but take care with very hot liquids. An immersible blender is perfect because you only need to use the one pot you cooked in.
I always sweat the vegetables with the onions and when it is time to add the stock I only cover the vegetables with it. Then, after they are cooked I use an immersible mixer (mixstavel – makes life so simple). If the mixture is too thick which it usually is I just add more stock or water to thin it out after adding the cream. It is just that simple and the soup was never to thin to begin with because I didn't add too much liquid in the beginning.
At the end of the summer, vegetables are plentiful and inexpensive and this is a take off on a classical French cream soup. I have simplified it and an immersible blender (mix stavel) is a god send in the kitchen and it will make making many soups and sauces so much cleaner, quicker and easier.
In order that this recipe stays quick and easy I do not suggest that you pass the soup through a sieve or food mill, which you would have to do in a professional kitchen. After all it doesn't really affect the soups taste not passing it through a sieve, only its texture which will be just fine using a food processor or your immersible blender.
This same recipe will work beautifully with cauliflower or carrots (blomkol eller morot) both of these making a great tasting hot or cold soup that almost everyone loves.
Serve this as a first course or even a main course with small sandwiches for lunch or an easy and warming dinner. If broccoli or cauliflower is on sale buy more and double or triple the recipe and put the extra soup in the freezer in small containers for up to 3 months.
Nutrition
Calories:
102
kcal
Carbohydrates:
1
g
Protein:
0.4
g
Fat:
11
g
Saturated Fat:
5
g
Cholesterol:
23
mg
Sodium:
11
mg
Potassium:
13
mg
Fiber:
0.04
g
Sugar:
0.1
g