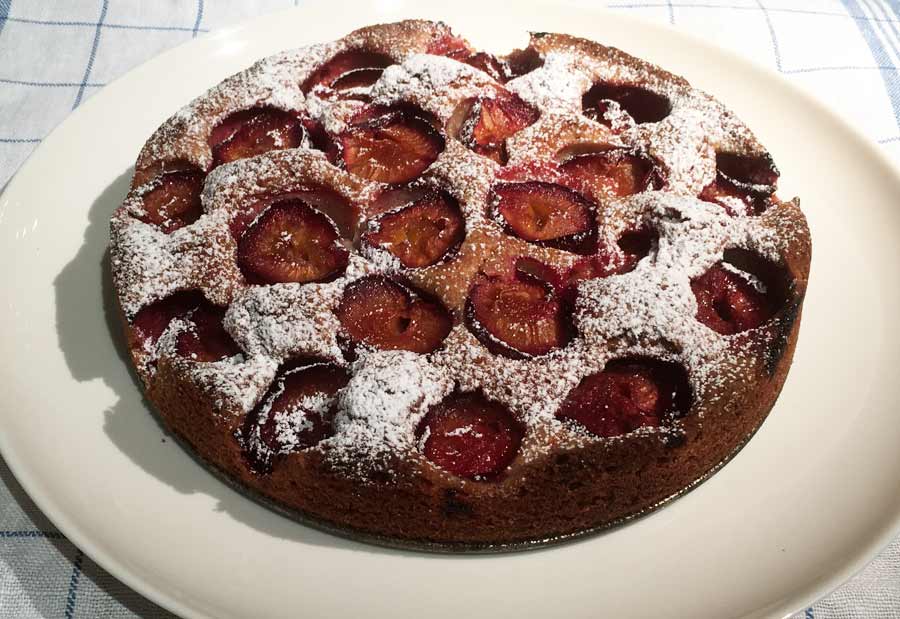 Classic Plum Tarte
Classic Plum Tarte
The NYTimes published Marian Burros's recipe for Plum Torte years ago and regularly reprinted it. I found this recipe only a few years ago and its wonderful. Marian Burros's recipe for Plum Torte was reprinted every September from 1983 through 1989 until the editors determined that enough was enough. Whether you call this a Torte or a Cake, you will call it delicious!
Classic Plum Tarte
Ingredients
190

gr.

sugar

110

gr

butter softened

120

gr.

unbleached flour

sifted

1

teaspoon (4 grams)

baking powder

Pinch of salt

optional

2

eggs

24

halves pitted purple plums

powdered sugar

for dusting

whipped Cream

for serving (optional)
Instructions
Heat oven to 350 degrees.

Cream the sugar and butter in a bowl. Add the flour, baking powder, salt, and eggs and beat well.

Spoon the batter into a springform pan of 20, 22, or 24 cm (8, 9 or 10 inches). Place the plum halves skin side up on top of the batter. Sprinkle lightly with sugar and lemon juice, depending on the sweetness of the fruit. Sprinkle with about 1 tablespoon of light brown, raw sugar or plain white sugar.

Bake 1 hour, approximately. Remove to a cooling rack.