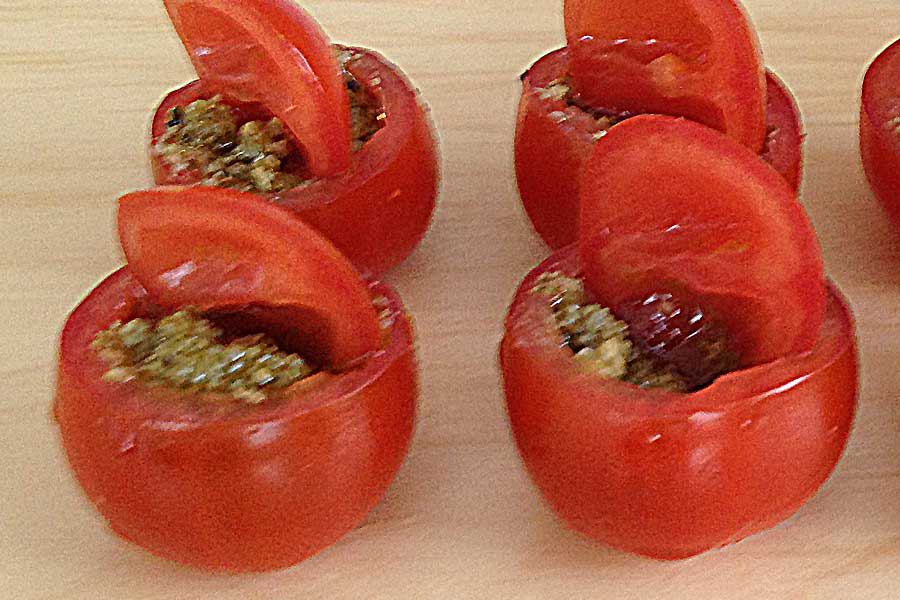 Cherry Tomatoes filled with Pesto
Cherry Tomatoes filled with Pesto
These are super easy and most of the preparation can be done hours ahead. If the tomatoes are ripe and you have a good brand of pesto you guests will love them. They are a particular treat during the summer months when you can get really fresh and ripe tomatoes.
I usually have a small jar of homemade pesto in the freezer which is fantastic, because of course, they are better with homemade pesto. But there are one or two brands that work perfectly well for this.
Cherry Tomatoes filled with Pesto
Ingredients
1

small jar

Pesto

A better brand.

1 or 2

plastic boxes

Cherry Tomatoes

They need to be ripe.
Instructions
Take each small tomato and holding it upside down cut off a small lid. Do this to all of them on one go.

Using a small knife, spoon or a mellon baller and remove it pulpy center. As you do this place each one on a tray lined with a couple of layers of paper towels, cut side down.

Leave for a couple of minutes to drain. Then fill with small spoonfuls of pesto. Place the lid back on at an angle.

Super easy - no cooking and you can do the tomatoes hours before you need them - just refidgerate them. Then you can fill them an hour or two before serving.