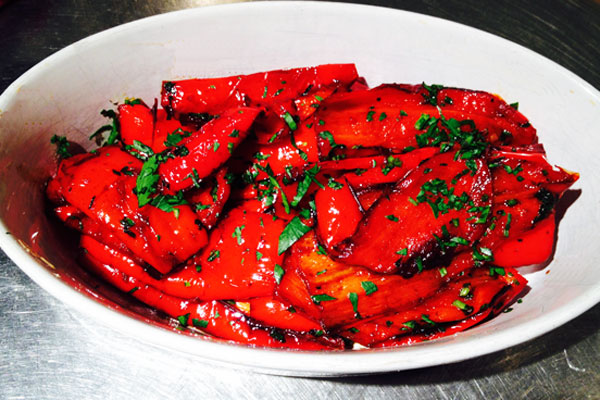 Red Peppers Pan Roasted with Balsamic Vinegar
Red Peppers Pan Roasted with Balsamic Vinegar
This is one of my favorite ways and types of red peppers recipes. The type of pepper is Palermo instead of Bell pepper. Palermo peppers are long and thin walled, they contain almost no seeds at all. They don't need to be roasted and then peeled like Bell peppers.
These are sometimes called Spanish salad peppers there is also a light green variant of it. If Palermo peppers are not available and they are not a good part of the year, feel free to substitute Red Bell peppers. Keep in mind they have more water in them and a good amount of heat will help evaporate it and concentrate that sweet pepper flavor.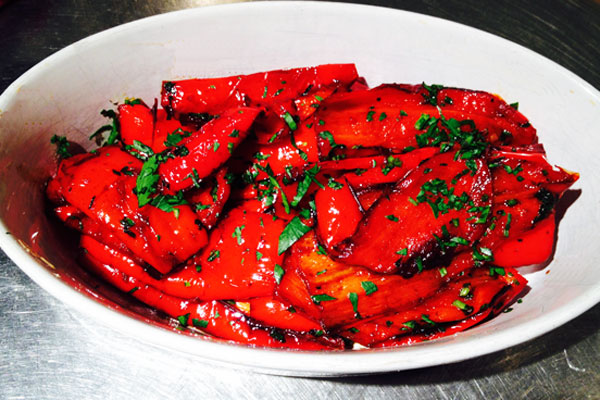 Red Peppers Pan Roasted with Balsamic Vinegar
Ingredients
500

gr

red peppers

sliced length ways then in half

2

tbsp

olive oil

1

clove

garlic

finely sliced

4

tbsp

balsamic vinegar

1

tsp

sugar

salt and freshly ground black pepper

to taste
Instructions
Wash and dry the peppers. The slice them length ways and then in half so they fit in the pan easily.

In a frying pan large enough to hold all the peppers heat the olive oil until hot. Place all the peppers cut side down. If they all don't touch the bottom of the pan don't worry, they will shrink as they cook.

Saute on high heat for about 4 or 5 minutes and then turn them all over. A long metal tong helps here. Keep repeating this until all the peppers have taken a good color about 20 minutes

A few minutes before they are done add the sugar, garlic and balsamic vinegar and mix well. Let the vinegar concentrate a little and the garlic flavor the peppers.

Salt and pepper them to taste.
Notes
Adding the garlic late in the cooking helps to avoid it from burning. The steam from the balsamic vinegar also helps the flavors to permeate the vegetables.