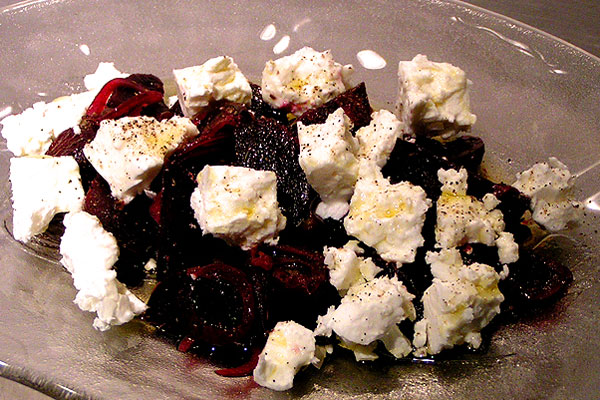 Roast Beets with Feta Cheese
Red Beets with Feta Cheese
This is another of those "it's not really a recipe" recipe! But it tastes great. Although it takes at least and hour to roast beets once done they can be used for up to 4 days. So you can make them the day before.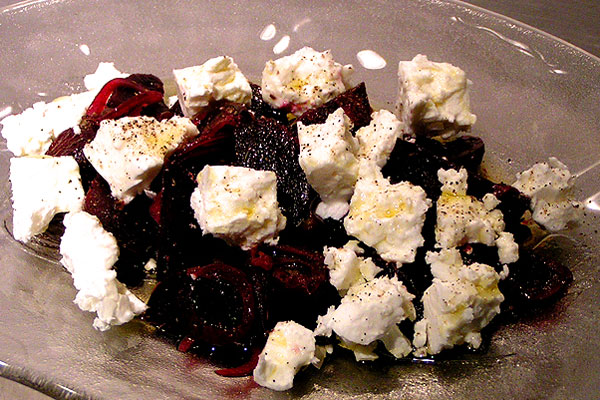 Red Beets with Feta Cheese
This is another of those "it's not really a recipe" recipe! But it tastes great. Roasting beets is really quite straight forward.
Ingredients
½

kilo

red beets

scrubbed well

1

tsp

sea or course salt

1

tbsp

olive oil

1

small

red onion

thinly sliced

200

gr

feta
for the dressing
2-3

tbsp

olive oil

2-3

tbsp

balsamic vienager or red wine vinegar

salt & freshly grated black pepper
Instructions
Preheat your oven to 200°C or 320°F

Scrub off the beets really well to get off any sand or dirt that might still be on them. Trim off any leaves that might have come with them when purchased.

Dry them with a paper towel.

In a square of aluminum foil place the washed beets with a sprinkling of the course salt, close it around the beets making sure the seal is tight. Place in a small roasting pan and place in the middle of a preheated oven.

Roast for approx 50 to 60 minutes. This should be fine for medium size beets.

When done place the package on a plate and let cool for about an hour so they are cool enough to handle.

Open the package and with a small peering knife peel off the skin and cut into pieces. I like this a bit chunky but not too big.

Drain off the onions, and break up the feta cheese and sprinkle both over the cut up beets. Then sprinkle over the olive oil and the vinegar, salt and pepper to taste and serve chilled but not cold.
Notes
This is another of those "it's not really a recipe" because it really is throwing things together that just have a natural affinity for each other. The sweet beets go really well with the salty Feta.
As most of you know I really don't like raw onions and although red onions are already a bit more mild than our white ones I think they are still too strong. Soaking them in a little vinegar will help cut the sharpness and hopefully stop them from repeating well into the night. But if you can manage it go right ahead and use them as is. You can also substitute spring onion if you find them more digestible.
If you roast the beets ahead of time, they will keep in the fridge for up to 4 days well wrapped.
I love beets and when they are in season my mom used to make beets with everything. The best was chilled as a salad ingredient. Wow that is a great memory.