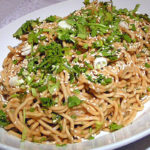 Asian Sesame Noodles
I love this dish and can eat it all the time. Double the recipe and it makes a great buffet dish.
This is a meal in itself but my Sesame Crusted Chicken Breast goes really well with it and they only take about 15 minutes to make.
…