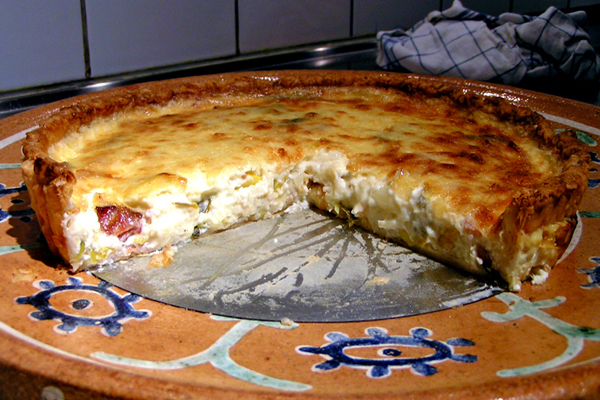 Quiche Lorraine
Quiche Lorraine / Leek and Bacon
This is a far cry from the horrible cheese pies you get here in almost every so called Cafe. Rich and creamy with almost sweet leeks this is one of the best basic quiche recipes you can have.
You will need to get my Pate Brisee recipe for the crust.
Serves 4 with a salad as a main course, or 6 as a starter.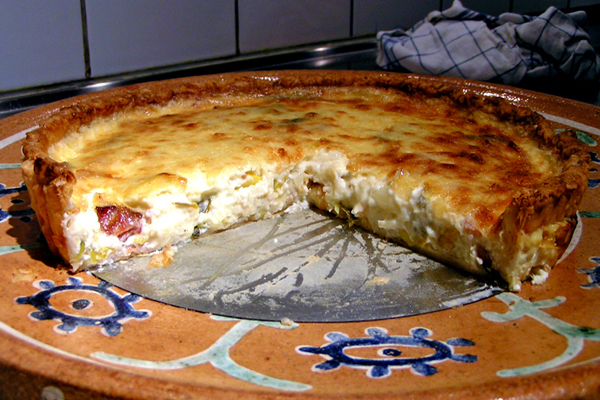 Quiche Lorraine
Rich and creamy with almost sweet leeks this is one of the best basic quiche recipes you can have. Serves 4 with a salad as a main course, or 6 as a starter.
Ingredients
1

recipe

Pate Brisëe Recipe

See link above

120

gr

Gruyere, Jarlsberg or Edam cheese

coursely grated

30-40

gr

Parmesan

coursely grated

2.5

dl

heavy cream

2.5

dl

milk

2

whole

eggs

2

egg yolks

1

teas

salt

80

gr

mild smoked bacon

best quaily you can find.

1

large

leek

washed well and sliced in 3 millimeter rings

2

dl

white wine

1/2

teas

grated nutmeg

freshly grated black pepper
Instructions
Prepare the crust as directed in the Pate Brisée recipe. A good idea is to double this recipe and put half in the freezer for the next time you will need pie crust.

Preheat oven to 210°C or 400°F. Butter and flour the inside of a 24cm quiche pan.

Roll out the dough and line the pan, prick the pie crust with a fork to allow steam the escape during the baking. Let rest for one hour in the fridge. Line the pan with parchment paper and fill with beans or lentils to hold the crust down and in place while you pre bake the pie shell.

Bake for 30 minutes. Let it cool partially and remove the beans and parchment and return to the oven for 5 minutes.
For the filling
Saute the leek in a little butter until it softens and then add the wine. Cook until the wine disappears. Salt and pepper to taste. Remove to a plate to let cool.

Clean the leek well being sure to remove any dirt or sand and slice crosswise into 3 mm or 1/2 inch rings. You can use almost the entire leek for this recipe.

Take the bacon and cut into 1.5 cm or 1/2 inch pieces and lightly fry until cooked but not browned. Remove and let cool.

In a large bowl mix the cream, eggs, milk, 1 tsp salt and nutmeg.

Arrange the cooled leeks and bacon over the bottom of the precooked quiche shell. Add 2/3 of the grated Gruyere, Jarlsberg or Edam cheese and all but 2 tbsp of the grated Parmesan cheese. Then gently pour over the cream and egg mixture.

Take the 2 remaining 2 tbsp of Parmesan and sprinkle over the top of the quiche and then do the same with the remaining Gruyere, Jarlsberg or Edam cheese.

Bake for 30 minutes until the egg mixture is just set. Remove and let sit for about 20 minutes before serving.
Notes
You will need to get me Pate Brisee recipe for the crust.
A quiche is supposed to be light, firm and still rich and creamy. A far cry from what you are used to here. You can of course use pre-made pie crust which saves a good deal of time and energy. But you do get a better result from using a good home made pie crust recipe. Just keep in mind not to roll it out too thickly, 2 to 3 millimeters (3/16 of an inch) at most.
You need a fully cooked pie shell for this recipe. I find that if I use one that is only partially cooked the cream and milk make the bottom of the quiche soggy. Helping to preventing this is why the temperature of the oven is so high. Normally custards are cooked in a low oven.
If you do use a pre-made crust, this whole recipe shouldn't take more than 25-30 minutes to make.
If you are using smoked bacon from the butcher it can be too smoky sometimes. There should really be only the hint of bacon flavor in the quiche. In that case cut it up and poach it in a liter of water for a couple of minutes until it is just cooked and drain on a paper towel. You don't really have this problem with regular packaged bacon from companies like Scan or Tulip.
I think that using the wine in this quiche is absolutely necessary. Sauteing leeks and onions of any kind benefit hugely from finishing them off with white wine. There is a chemical reaction that takes place in the pan and they become almost sweet, loosing all their harshness. It makes such a difference in the finished quiche. I can't say how important I think this step is. If there is a trick - this is it!
I think that quiche is in the middle of small revival as everything 60s and 70s is back in fashion. Great for the wonderful and versatile quiche.
If you're a real man and won't each QUICHE call it a cheese pie.