Italian Seasoning
Italian Seasoning
Why buy Italian seasoning when you can make it at home with dried herbs you most likely have in the cupboard. Making this with dried herbs means it will keep for months and can be used to make a lovely Italian salad dressing or sprinkled over chicken for or any large roast, particularly roast pork.
It's less expensive and you can of course control how much of each ingredient you prefer. You can safely quadruple this recipe and it will be exactly the same.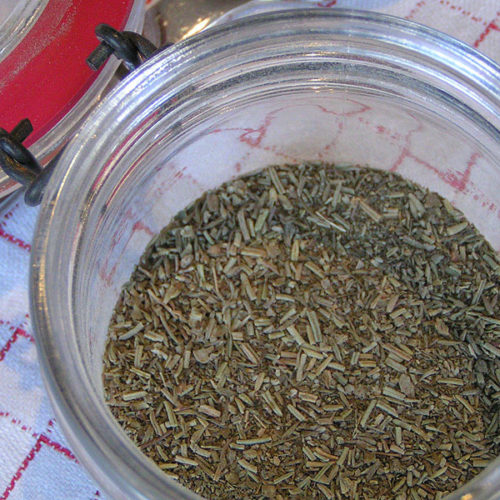 Italian Seasoning
Ingredients
1

tbs

thyme

1

tbs

Oregano

1

tbs

marjoram

1

tbs

sage

1

tbs

basil

1

tbs

rosemary

1

tbs

Dried Parsley

1

tbs

garlic power

1

tbs

salt
Instructions
Place all the herbs into a mortar and pestle and grind them down to make the mix a bit finer. You can also put them into an electric spice grinder and turn it all into a power for sprinkling.

I have to say I use the mortar and pestle method. I like it when you can see all the herbs. The only problem can be the rosemary it can be woody and long with sharp ends so I start by breaking up that first then simply add the rest and mash it until it's as I like it.
Notes
If you like you can also leave out the salt and season things with salt and pepper separately.