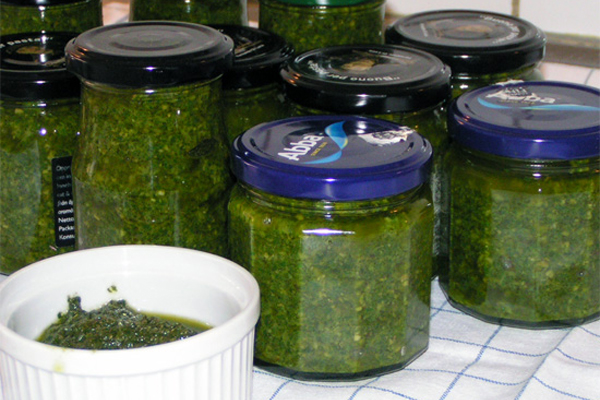 Pesto in Bulk
Pesto in Bulk
Here is a recipe for those of you who are growing your own basil and need a good recipe for bulk pesto. Use on pasta in the traditional way, but it can also be used in sauces and marinades for chicken, fish and on vegetables.
A friend asked – Do you really like pesto that much? and I have to say I really do. Not because I love to eat pasta with pesto but I love basil and this is a great way of getting the pesto in a form that is good to use in many other recipes.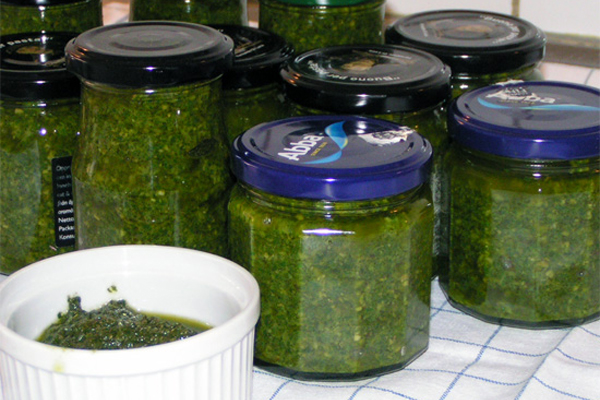 Pesto in Bulk
A handy recipe made in bulk it can be frozen for later use on pasta, chicken, or vegetables.
Ingredients
500

grams

basil

both leaves and stems

7.5

dl

olive oil

good quality

3 or 4

cloves

garlic

roughly chopped

80

grams

pine nuts or walnuts

3

tsp

Parmesan

freshly grated

3

tsp

salt

1

tbsp

black pepper

freshly grated
Instructions
Wash the basil well and spin it dry in a salad spinner. Lay out a couple of kitchen towels and then place all the basil out on them to completely dry.Toss them now and then to help dry them out.

In the mean time place your glass containers or bottles with their caps in a preheated oven to 100° (212°) for 10 minutes to sterilize them.

In a food processor place half the basil, oil, garlic, Parmesan, toasted pine nuts, all the salt and pepper, and processes for about 60 seconds. This should make enough room in the processor to add the rest of the ingredients. Empty contents into a large bowl and repeat with the second batch.

Process until all the ingredients have been finely ground into a paste, about minute and a half. Taking care not to process it too much - its pesto not basil baby food.

Mix all the pesto together and correct for salt and pepper.

Take the bottles from the oven and fill with pesto and freeze.
Notes
This is not the usual recipe for pesto. This pesto does not contain butter or enough oil or much Parmesan.
All the bottles in the photo are either 240 gr or 250 gr that is between 7 or 8 oz's which I have collected, the most important for me is that they are glass with metal caps. That makes it easy to sterilize them in the oven quick and easy. (I save Abba sill jars, they are just the right size). You will need 6 jars.
General rule: Portions for pasta are 70 grams if you are not too hungry and 100 grams if you are.
To use: Defrost the bottle of pesto.
Cook your pasta and drain as usual and return to the pot.
Dress the pasta with 1 msk. or 1 tbls. of butter per portion and enough olive oil to coat all the pasta well.
Place a heaping msk or tbls. of the pesto per portion of pasta into the pot and mix well.
Salt and pepper to taste and serve with a little freshly ground Parmesan on top.
The recipe is made with as little cheese and oil as possible to so that when you use it you get as fresh a product as possible. Dress the pasta as you would normally with butter and oil before adding the pesto helps you produce something that tastes like it was freshly made. Parmesan frozen too long can get a stale taste so you use only the minimum that you can get a way with.
If you take my suggestion about walnuts which is a real cheat (pine nuts have a buttery flavor) you can find that the skins on the walnuts can make almost anything you put them into a bit bitter. Take a moment and brush off any skin that will come off easily. You can blanch them and a bit more of the skin will come off but its too much work for me.
I have made this recipe with walnuts and I thinks its fine, you can also use hazelnuts which I have seen before in a Italian regional pesto recipe. Italians will just roll their eyes!
Here are a few suggestion for using your gardening bounty of pesto!
| | |
| --- | --- |
| Roasted Vegetables: | Roast vegetables as usual in the oven then brush with the pesto while still hot. Serve as usual. |
| | |
| Make a sauce great for a piece of grilled chicken: | Saute 2 small shallots finely chopped in butter, then add 2 1/2 dl or a cup of chicken stock or white wine. Reduce to just a few spoonfuls then add the same amount of heavy cream, reduce again until it is a nice consistency for a sauce. Add a spoonful or two of the pesto and cook for a moment or two more. Taste for salt and pepper. |
| | |
| Make a sauce for pasta: | Cook the pasta as normal (300gr or 10oz.), drain and return to the pot. Pour in about a 2 1/2 dl or a cup of heavy cream, a hand full of grated Parmesan and a couple of big tablespoons on softened butter and about the same amount of the pesto. Mix well and add a bit more cream if the sauce is too dry. Salt and pepper to taste. |
| | |
| A quick sauce for fish: | In a sauce pan heat a small amount of olive oil with a little very finely chopped chili (use red ones they look pretty). You can also use chili flakes which work well. Infuse the chili into the oil, remove from the heat add a small spoonful of the pesto and a msk. or tbsp. of finely chopped parsley. Return to the heat for a minute and spoon over which ever firm fleshed white fish. Serve with a little lemon on the side. |
| | |
| Flavored Mayonnaise: | Make mayonnaise and add a spoonful or two to have a basil, garlic flavored mayonnaise. |
| | |
| Vinaigrette: | Make your usual vinaigrette and add a little pesto to it. Its perfect on a tomato salad and very good if you need to dress up steamed vegetables. |