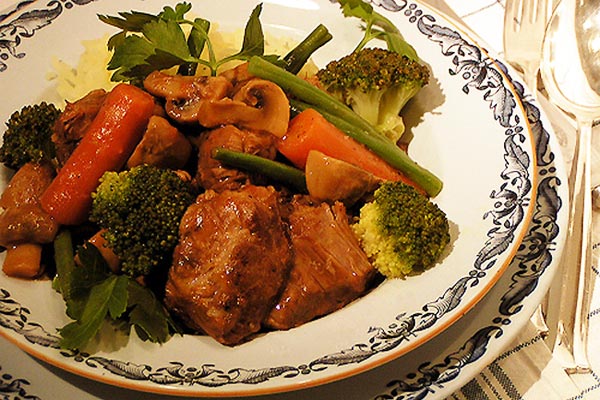 Navarin Printanier – Lamb Stew
Navarin Printanier – Lamb Stew
This is one of my most prepared recipes at home. It is one of my most reliable dishes when friends come over for an inexpensive but hearty meal during the cold months or any time of the year. It takes a good hour to get it all together but after that the oven does the rest of the work. If you are only 2 in your household it will give you lots of left overs for your lunch bag or for the freezer for quick mid week meals.
In the photo above I substituted root vegetables for green vegetables, broccoli, french beans and riced potatoes. It's a very versatile recipe.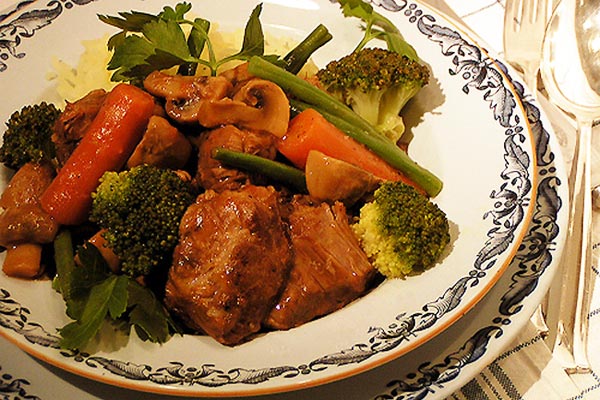 Navarin Printanier (Lamb Stew 1)
It takes a good hour to get it all together but after that the oven does the rest of the work. If you are only 2 in your household it will give you lots of left overs for your lunch bag or for the freezer for quick mid week meals.
Ingredients
1.5

kilos

boneless lamb shoulder

or lamb karré, blade cut

500

grams

lamb bones

1

tbsp

olive oil

plus enough to coat the bones

70

grams

bacon

good quality smoked cut up into small lardons

2

tbsp

sugar

4

tbsp

butter

4

tbsp

flour

generous

2.5

dl

red wine

1

liter

beef stock

1

400gr

can of chopped tomatoes

3

tbsp

tomato paste

1

bougquet garni made of

2

bay leaves

3

large

sprigs of parsley

a few sprigs of thyme or rosemary

2

medium

garlic cloves

lightly crushed
For Serving
3-400

gr

champignon mushrooms

quartered

6

turnips

peeled and split down the middle

6

carrots

peeled and split down the middle

4

medium

onions

peeled and quarted with the end still attached

OR 16-18

small pearl onions

peeled

8-10

medium

potatoes

peeled and quartered

salt and fresh black pepper to taste.
Instructions
I normally make this in a large iron roasting pan. If you don't have a large heavy pot that will hold at least 5 liters or 5 quarts, you can start this off in large heavy skillet and then transfer everything after you brown the meat to a larger ovem proof dish or stainless steel pot. It will need to be covered in the oven so the pot needs a lid or you need to have some aluminum foil handy.

Heat the oven to 250°C or 450°F. Place the bones in a small metal pan, coat them with vegetable or olive oil and brown for about 25 min. When brown remove from the oven and set aside.

As soon as you are done browning the bones reduce the oven to 180°C or 350°F

To begin cut up the bacon into smallish bits and fry until golden brown and then remove from the pan and set aside.

Begin to brown the meat that you have cut up into cubes about 3 x 3 cm or 1 ½ x 1 ½ inches. You want them large, they will shrink while cooking to about half that size. Brown the meat well over a high heat in the bacon fat that remained in the pot.

As you brown the first batch of meat sprinkle in the sugar and let it caramelize in the pot. This will help give the sauce a really beautiful color when finished. When the meat is nicely browned, remove the meat to a dish with the bacon.

Do not crowd the pot, brown only what will fit in one layer in the pot. If you are using something smaller to begin with brown the meat in batches. You might need to add a bit of olive oil to help stop the meat from sticking to the bottom of the roasting pan while browning.

Now add the butter to the empty pot, melt and then sprinkle in the flour. Mix it well with the butter, cook for a minute or two and add the hot liter or quart of veal or beef stock a little at a time whisking to insure that there will be no lumps. Be sure to scrape up everything that is stuck to the bottom of the pot – it will add huge amount of flavor to the finished dish.

Bring it to the boil on the stove and add the chopped tomatoes, wine, bouquet garni, garlic, and the dried thyme or rosemary if you are using that. Bring it back to a simmer and add the bacon and the browned meat and bones. There should be enough liquid to cover the meat.

Now if you are going to use a large oven dish or pot because you don't have a roasting pan big enough to hold everything, do it now. Transfer everything to a heat proof oven dish or pot that has a lid. Aluminum foil will do fine if your dish has no lid.

Cover and place it in the lower third of a preheated oven set at 180°C or 350°F and let cook for one hour.
Finishing the Stew
If you don't have the pearl onions for finishing the stew use the 4 quartered onions.

After an hour remove the pan from the oven. Remove and discard the bones and bouquet garni. Add the quartered onions (if you don't have pearl onions), carrots, turnips and the mushrooms. Now is the time to add the salt and a good grinding of fresh black pepper. Stir it all together and return to the oven for another hour.

Remove from the oven and check that there is enough liquid, you can add a bit of hot water to thin it out if it has gotten too thick. You should have about 1 liter of sauce. It is ready to serve in a big serving dish decorated with a bit of chopped parsley or just throw it on the table as it came from the oven.
Notes
This recipe seems to be such a lot of work but really it isn't. The cooking takes time but the preparation is so basic. While the bacon is frying you can cube the meat, while the meat is browning you can get the stock cubes and spices together and while the pot is in the oven for the first hour you can take 10 minutes to trim up the vegetables.
Other vegetable can be substituted like broccoli or french green beans. They will only need 20-25 minutes.
I have to say that this is a great recipe adapted from an old Julia Child recipe I have been using for more than 30 years. You can substitute pork or beef and it comes out great. It is forgiving – if you don't have the wine, then don't worry about it. If the only vegetables you have in the fridge are carrots and potatoes then that works as well. I like to use liquid bouillon from bottles to make the stock, but bouillon cubes will work just fine – just watch the salt.
The only thing you need to do well is the browning because the stew gets so much of its flavor from that process. The meat bones should always be well browned in the oven as they give an enormous amount of flavor as well. I know I haven't said how much salt and pepper but use your own sense of taste for that. Remember that if you used bouillon cubes it will already have some salt in it.
Some people love this with boiled potatoes but I like it with really creamy mashed potatoes. If your casserole is large enough you can add the cut up potatoes to it for the last hour and cook them in the sauce.