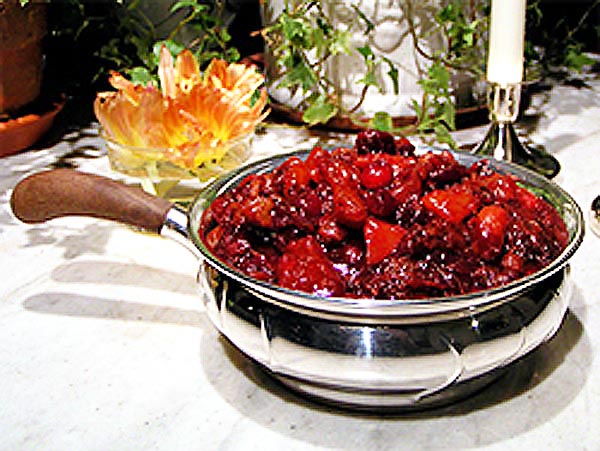 Cranberry Chutney
Cranberry Chutney
This is an excellent change from cranberry jelly or other prepared cranberry sauces that I have tried. It is excellent for your Thanksgiving turkey. Stored in the freezer in small containers it is great for all kinds of roasted wild fowl, elk, reindeer and other kinds of roasted game meats.
It is a bit of work but worth the effort, making in advance really helps with the holidays preparation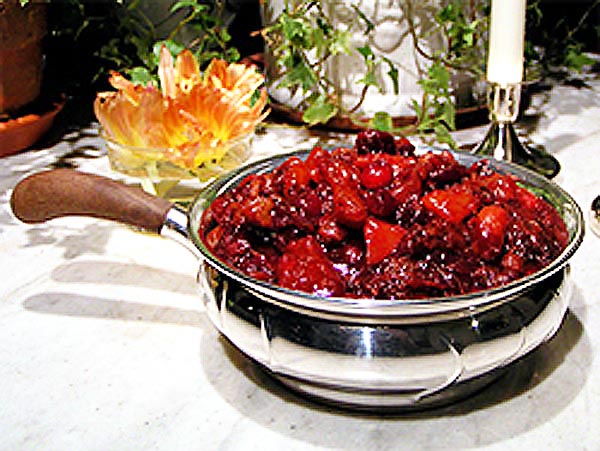 Cranberry Chutney
A fantastic recipe that I have been using for years. It does have a lot of ingredients but its worth the effort. This recipe makes quite a bit but it freezes really well. Its best to make this a few days before you need it so that it has time to benefit from all the lovely spices in it.
Ingredients
680

gr

frozen or fresh cranberries

That would be 2 packs of frozen Ocean Spray cranberries.

350

gr

light muscovado sugar

or brown sugar

1 1/4

dl

apple cider vinegar

3 ½

dl

water

1

tsp

ground clove

1

tsp

ground cinnamon

1

tsp

ground curry

2

tsp

ground fresh ginger

or 1 tsp dried

2

lemons

ri,nd grated, and segmented, all the white pith removed

2

oranges, rind grated, and segmented

rind grated, and segmented, all the white pith removed

2

apples

peeled, cored and cut into 1cm cubes, Granths work well.

1

pear

peeled, cored and cut into 1 cm cubes, use a firm pear like Anjou

150

gr

raisins

golden or dark

150

gr

no soak apricots cut into ½ cm pieces

150

gr

walnuts

coarsely chopped
Instructions
Place the vinegar, water, sugar, cloves, cinnamon, curry and ginger, lemon and orange flesh, and the lemon and orange zest into a pot and bring to a simmer for 10 minutes. Stir occasionally to be sure that all the sugar is dissolved.

Add half of the cranberries and simmer uncovered for 10 minutes.

Add all of the apple, pear, dried apricots, and raisins and simmer gently uncovered for an additional 30 to 40 minutes. You are looking for the chutney to thicken.

Add half the remaining cranberries and simmer 10 minutes more.

Add the remaining cranberries and the walnuts and cook for 15 more minutes.
Notes
1. You need to use a non corrosive pot to cook the chutney in, such as an enameled or stainless steel pot.
2. The chutney should be cooked at a good simmer, uncovered and not boiled.
3. The addition of the different elements at different times during the cooking gives you several textures and makes this great chutney.
4. The chutney is better if cooked in advance, up to a week is not a problem stored in the fridge, it only gets better.
5. The chutney can be frozen for up to 6 months or canned in mason jars using a traditional steam sterilization method then stored in a dark, cool dry place.
Nutrition
Calories:
782
kcal
Carbohydrates:
156
g
Protein:
8
g
Fat:
21
g
Saturated Fat:
2
g
Sodium:
40
mg
Potassium:
1327
mg
Fiber:
17
g
Sugar:
124
g