Cavatelli Pasta Recipe
no images were found
Cavatelli Pasta Recipe This is one of my favorite pasta's. It was a real rarity when I was growing up and served always on a Sunday or holiday. I love this so much that I actually bought a cavatelli maker from the states, so I can have it here in Sweden. This is something you will never find here.
A real classic pasta Cavatelli is generically known as Gnocchetti, Manatelle, Orecchie de Prete, Strasnari and Truoccoli. A specialty for several big religious holidays. It is served in many ways but it seems that the sauces preferred are oil based with chili (always) and a seasonal vegetable. A classic is a butter and sage sauce, but it can be served with a wide variety of sauces. The photo below is Ricotta Cavatelli that I made myself using a Cavatelli maker I purchased on Amazon. Handmade varieties aren't usually folded so tightly.
Like gnocchi, it can be made with pumpkin or butternut squash.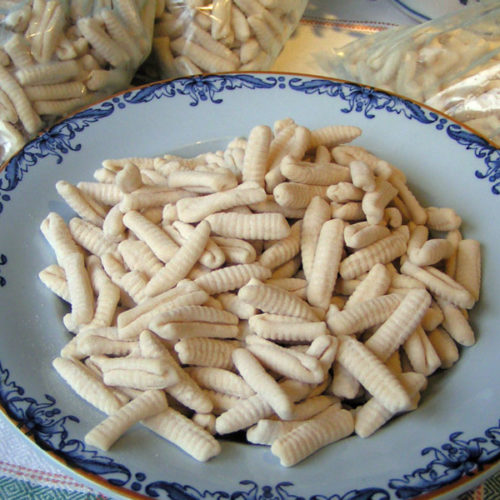 Homemade Cavatelli Pasta Recipe
One of my very favorites! This makes a damp dough and will need flowering as you roll and get it through the machine. See my notes below!
Ingredients
453

gr

plain white flour

Not 00 typo pasta flour, its too soft.

440

gr

ricotta cheese

1

medium

egg

½

tsp

salt
Instructions
Sift the flour into a bowl large enough to hold all the ingredients.

Mix the egg and ricotta together with the salt.

Using your hand or stand mixer combine the wet ingredients with the flour and need for 10 minutes.

You should have a very soft and velvety feeling dough. It will be just on the other side of sticky. It shouldn't stick to your fingers but it is more wet than normal pasta dough.

Run the pasta through the cavatelli maker, flour well to stop the cavatelli from sticking together. See Image. If you are making by hand see the video below about how to shape them.

Spread them in a single layer on a tray lined with baking paper. At this point I just throw the whole tray into the freezer.

I take them out when frozen and bag them up in a plastic bag, suck out the air and store.

Cook the cavatelli from frozen in plenty of boiling salted water. Begin checking for doneness after about 3 minutes after the water comes up to a boil.