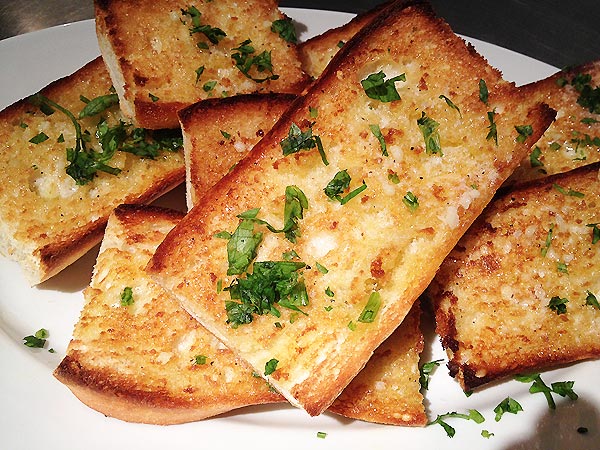 Garlic Bread ala NYC 1970's
Garlic Bread ala NYC 1970's
This is the great garlic bread of my days in New York where it was served at all the really good brunch restaurants on 3rd Ave. Warm and crispy it's a breeze to make and really garlicky (is that a word?).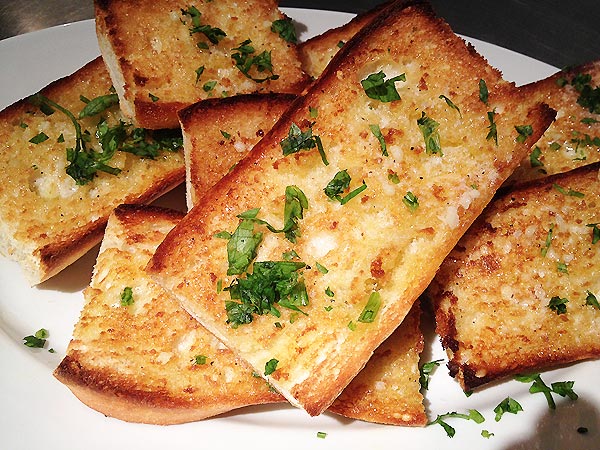 Garlic Bread ala NYC 1970's
A simple restaurant recipe. It's easy and take no time at all to make.
Ingredients
1

Baguette

100

gr

butter

softened and room temperature.

½

large clove

garlic

pressed through a garlic press

1

Baguette

1

tbsp

parsley

finely chopped for finishing

sea salt

for finishing
Instructions
Let the butter sit and come to room temp and add the garlic and mix well.

Turn on the broiler in your oven to the highest it will go. That's the heat from above. At the same time remove the rack from your oven, take a piece of aluminum foil and line the rack.

Take the baguette and cut it into 4 pieces all the same length, then cut each piece in half length wise.

Then put the bread on the lined rack face up and place under the broiler until well toasted. Let it get a good color. It needs to get good and crispy. Be sure to keep an eye on it, it can burn very quickly

Remove from the oven and set the whole rack aside. You can make the recipe up to hear and leave until you are ready to serve it. Set it aside.

When ready take a rubber spatula or butter knife and divide the butter mixture between the 8 slices of toasted baguette. Spread it out evenly and place right up under the broiler, about 6 centimeters from the heat source.

When the butter is bubbling and you can begin to smell the garlic remove from the oven, put it on a serving plate and sprinkle with a little sea salt and the chopped parsley and serve immediately.
Notes
The only real problem with recipe is that it can burn as quickly as you can say Queen Elizabeth. You need to pay attention and really keep an eye on it the whole time. If you do then it won't be a problem. But be warned - I have burned a few myself, it's easily done.